Pandita Ramabai (alias Mary Rama after baptism) (Birth-23 Apr 1858, Death-05 Apr 1922) was one of the early Christian converts in Maharashtra. She is known for her feminism and work for women's education.
However, Pandita Ramabai's experience of missionaries and proselytization by her is a little talked about chapter of her life.
Pandita Ramabai was a Sanskrit scholar and feminist. She converted to Christianity in 1883. She established the Mukti Mission at Kedgaon near Pune, Maharashtra. She translated the Bible from Hebrew to the Marathi language. This was the first Marathi translation of the Bible. Through the Ramabai Mukti Mission, she converted hundreds of famine-affected poor rural women to Christianity.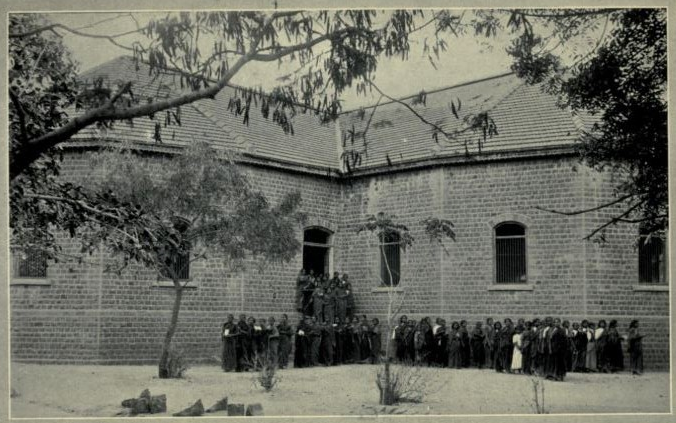 (Girls coming out of the church at the Mukti Mission)
However, Pandita Ramabai was discriminated first against on the basis of religion and then on the basis of gender and race by Christian missionaries.
In 1882, before her conversion, Ramabai decided to move to England to get a medical education. However, her decision was opposed by many Christian missionaries.
She inquired about the same to Sister Superior of Mary's Home, Pune and many other European sisters. She was disappointed. One of the sisters told her to become a Christian to make her visit to England possible. Some asked her to do an apprenticeship at St. Mary's Home and then they would decide about her visit. One sister told her that she could not carry her two-year-old daughter with her to England.
Just before her departure to England, a pastor came to Ramabai and asked her not to go to England. When he found that Ramabai was not yielding, he told her that they will not take responsibility for her visit to England, and if she was really willing to go, she should do the same at her own risk.
Ramabai departed to England by HMS Bukhara. She was allotted a cabin at the orlop deck (lowest deck of the ship.) There were six beds in the cabin. However other Europeans avoided staying in that cabin because Ramabai and her companion were native. And they consider them heathen. In Ramabai's own words, "आमचा वारा लागला तरी त्यास विटाळ होईल या भयाने कोणी युरोपियन बाया आमच्या खोलीत राहावयास आल्या नाहीत." (European women did not come to stay in our room because they feared that even wind from our body would pollute them.)
In England, Mary Rama' was guided in spiritual matters by the elderly Sister Geraldine of the CSMV (Community of St Mary the Virgin, Wantage, England).
Mary Rama's knowledge of Indian culture attracted Anglican missionaries. They wanted to develop her as a tool for proselytization.
The Rev. Canon William Butler of Wantage wrote to Dr Dorothea Beale, Principal, Ladies' College, Cheltenham, England: "I think that Mary Ramabai's knowledge of Indian ways, etc. will give her a power of influence which no English woman can have", adding condescendingly, "All that she needs is an English development of her Indian brains".
However, Ramabai's Indian origin and her independent mind and gender were enough to create distrust about her among the Anglican missionaries.
Ramabai's doctrinaire disputes with Sister Geraldine and the Anglican Church authorities started mainly due to her insistence on accepting the 'Sermon on the Mount' as her principal doctrine while refusing to believe in the divinity of Christ or miracles such as Immaculate Conception and Resurrection. She incurred charges of arrogance and lack of faith – charges which were also imbued with a strong racial and cultural prejudice.
Initially, Mary Ramabai refused to wear a crucifix with Latin words inscribed on it. She had explained the reason for not wearing a crucifix in a letter to Geraldine of the CSMV.
"As for the Cross, you know very, why I do not like to have that great sign. It is alright with you, who are Christians from generations, and with Father Goreh who does not or will not sympathies with Indian feelings, but I am just plucked down from (as Indian say) Hinduism and Brahmoism, so I know very well and sympathies [with] their feelings. So I am not inclined to do any such thing, which will lead my fellow (Indian) Christians into wrong ideas. "
She insisted on inscribing cross with Sanskrit words instead of Latin so that Indians would be able to understand the same. This created an air of distrust among missionaries.
Miss Beale's (Dr. Dorothea Beale, Principal, Ladies' College, Cheltenham, England.) offer of a Professorship to Ramabai in 1884, which would involve her teaching male students alarmed the Church authorities. Rt. Rev. DR. Mylne, Bishop of Bombay (in England) and Rt. Rev. Thomas V Bishop of Lahore (in England) protested the decision because of the possible effects of this enhanced status on a 'native' who was, by definition, prone to vanity, "one of their very faults". A suggestion was made that since a "Professorship among English young ladies ... might lead to a little undue self-exaltation", "a less prominent position ... with a humbler title such as teachership ... would probably lessen the danger of elation of mind very considerably"
Rt. Rev. Dr Mylne, Bishop of Bombay wrote to Dr Dorothea Beale, Principal, Ladies' College, Cheltenham, England,
'Above all things, pray to believe that her influence will be ruined forever in India if she is known to have taught young men. Suffice it to say that it would cause scandal even among the better sort of native men and that nothing would ever undo the harm it would do her among native women.'
Rt. Rev. Thomas V Bishop of Lahore wrote to Dr Dorothea Beale, Principal, Ladies' College, Cheltenham, England,
"The remaining quietly for a while in the Sisterhood (if I understand the Bishop rightly) is not what he objects to, so much as the undertaking a Professorship among English young ladies, which might lead to a little undue self-exaltation. But a less prominent position for a short time, with a humbler title such as teacher ship, making no demonstration in any way, would probably lessen the danger of elation of mind very considerably."
Such resistance from church authorities reminded Ramabai of the liberty and dignity she had before conversion. Though some orthodox Hindus opposed her education, reformers welcomed it. In fact, Bengali Bhadra Lok offered her Title of Pandita and Sarasvati. Many of the so-called Orthodox Hindus get convinced after debating with her father that women's education is not against Hindu Shastras and gave written admission of that effect to her father.
When Ramabai arrived in Pune, in late April 1882 she established a women's association, the Arya Mahila Samaj, to promote social awareness among them, on 1 June 1882. Local social reformers gave her full support. Social Reformers like Mahadev Govind RandeRanade used to attend lectures of Ramabai with his wife Ramabai Ranade. she established Branches were soon set up in major cities in the region. She reminded such support which she was enjoying before conversion.
She opened her mind before her godmother Geraldine of the CSMV. She wrote, "It surprises me very much to think that neither my father nor my husband objected to my mother's or my teaching young men while some English people are doing so".
From all such incidents, Mary Rama smelled considerable uncertainty about her future plans. Ramabai received an invitation to visit the USA in March 1886. The occasion was the graduation of her 'kinswoman' Anandibai Joshee from the Woman's Medical College of Pennsylvania (WMCP) at Philadelphia. Ramabai took this opportunity and went there.
In the USA she got the support of American Christians. To raise funds for her missionary work she wrote a book named 'High caste Hindu Women.' In this book, she narrated the situation of a Hindu woman in society and made an appeal to American Christians to donate. She wrote "it is my solemn belief that it is the most sacred duty of those who dwell in this highly-favoured land to bestow, freely, talents of whatever kind they may possess, to help forward this educational movement. I venture to make this appeal, because I believe that those who regard the preaching of the gospel of our Lord Jesus Christ to the heathen so important as to spend in its accomplishment millions of money and hundreds of valuable lives, will deem it of the first importance to prepare the way for the spread of the gospel by throwing open the locked doors of the Indian Zenanas, which cannot be done safely without giving suitable education to the women, whereby they will be able to bear the dazzling light of the outer world, and the perilous blasts of social persecution."
In December 1887 the American Ramabai Association was formed in Boston, and a subsidiary opened later in San Francisco. The Association pledged financial support to a secular residential school for Hindu widows for a period of 10 years.
And thus, when she returned to India in 1889, she started Sharda Sadan, a residential school for women initially in Mumbai and then the same was shifted to Pune. As a strategy religious policy of Sharda Sadan was neutral. This brought Ramabai support from Hindu reformers in Pune. The number of widows in Sharda Sadan rapidly grew.
Anandi alias Baya Karve (first student of Sharada Sadan and second wife of reformer Dhondo Keshav Karve) has mentioned in her autobiography Maze Puran that Ramabai used to get 10 Pounds per woman from the American Ramabai Association.
However, the neutral policy was just a show-off. Anandi alias Baya Karve has mentioned in her autobiography Maze Puran that Ramabai herself never induced her or suggested conversion to her but her assistant Christian teachers used to promote Christianity among the widows.
Anandi Karve also states that once she visited Sharda Sadan with her husband D. K. Karve, Ramabai indirectly suggested him to convert but Mr Karve ignored the suggestion.
The allegation of proselytization in Sharda Sadan became apparent when the daughter of Mr. Gadre, clerk of Sharda Sadan got converted.
One more incident is mentioned in the book Pandita Ramabai yancha England Cha Pravas Part II by Dwarkanath Govind Vaidya. The same incident is also narrated in the biography of Lokmanya Tilak viz. Lokmanya Tilak: Father of Indian Freedom Struggle by Dhananjay Keer.
"Meanwhile Pandita Ramabai went to Mangalore for some days. In her absence, earthen pots containing Tulsi-plant were handed over to a Christian woman, the acting Head of the Sharada Sadan, for the use of the religious rites of the Hindu girls and women in the Sadan. This was done purposely to test whether the institution was giving religious freedom to its occupants. It had the desired effect. On her arrival in Poona from Mangalore, Pandita Ramabai kicked away those tulsi-pots. This was learnt from one Gadre, her clerk.
"By 1896, Pandita Ramabai was successful in converting 15 Hindu girls to Christianity. In the same year, she attended a camp meeting at Lonavala with these girls.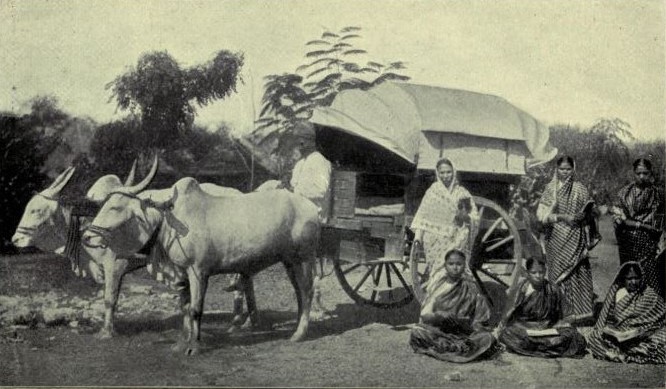 She published a tract on it. She wrote, "The last camp meeting which I attended, at Lonauli, proved to be an occasion of special joy to me, as I was accompanied by fifteen of my own girls, who were believers in the Lord Jesus, and had confessed Him as their Saviour before the public. Amidst the troubles and trials that faced me at that time, I rejoiced much to think that the Lord had given me fifteen immortal souls, whom I could call my spiritual children.
When proselytization in Sharada Sadan became apparent, Hindu reformers such as Mahadev Govind Ranade, Bhandarkar, Nulkar withdrew their support for Sharda Sadan. But then their support was not necessary for Ramabai. She already had financial support from the American association.
Ramabai shifted to Kedgaon. She formed a Mukti (Salvation) Mission and started her missionary work openly. She converted hundreds of Hindu girls and widows from famine-affected Central India.
In the Kedgaon Mukti mission Ramabai had no other option than to appoint a mail paster in church First Paster in the church at the Mukti mission was Rev. W. W. Bruere and then Mr Robinson was appointed as paster in 1889. Ramabai's religion dominated her feminism.
(Partial view of the interior of the church at the Mukti Mission

)
Most of the early biographers of Mary Ramabai are Christians. The present image of Ramabai as a victim of Hindu patriarchy, a great feminist, educationalist is created by those biographers. Her very few Hindu Biographers neglected her missionary work. However, Ramabai's writings show reveals a total contrast.
So-called feminism and zeal for women's education were tools for proselytizing. Ramabai should be remembered as a hardcore Christian missionary who proselytize Hindus by using their distress and calamity like famine as a tool.
References:
1. Multiple contestations: Pandita Ramabai's educational and missionary activities in late nineteenth-century India and abroad, Author: Meera Kosambi, published online on 19 Dec 2006, by Journal Woman's History review.
2. The Letters and Correspondence of Pandita Ramabai, Compiled by Sister Geraldine, Edited by A. B. Shah, Publisher: Secretary Maharashtra State Board for Literature and culture, Mantralaya, Bombay
3. Pandita Ramabai: The widow's friend. An Australasian edition of "The high-caste Hindu woman.
Author: Pandita Ramabai with sequel by Manoramabai. Digitally published by University of Michigan University
4. Pandita Ramabai yancha England cha Pravas. (पंडिता रमाबाई यांचा इंग्लंडचा प्रवास) Part I Author: Pandita Ramabai, Part II Author: Dwarkanath Govind Vaidya, Published by Secretary Maharashtra State Board for Literature and culture, Mantralaya, Bombay
5. Maze Puran (माझे पुराण) Author: Anandi Dhondo Karve
6. Lokmanya Tilak - Father Of Our Freedom Struggle - by DHANANJAY KEER